All images in this article, except the one of

Mr. Sacchi

, are courtesy of and copyrighted by

AndhikaMPPP.

---
The former AC Milan, Parma, Atletico Madrid and Azzurri manager, along with the Director of Football at Real Madrid,
Arrigo Sacchi
, wrote an intriguing and detailed analysis for La Gazzetta dello Sport on 11 December 2013. His editorial was entitled, "Champions League. Here is what can make the difference on a night of truth for Napoli and Milan."
Mr. Sacchi made incisive comments about the Champions League matches of Italian clubs AC Milan and Napoli, respectively.
Let's see what one of the great tactical minds in world football,
Mr. Sacchi,
had to say.
Arrigo Sacchi's training exercises at the Coverciano (FIGC site)
before the 1994 World Cup. "Ball possession, pressing and velocity."
Discussion Items
On a night of truth for Milan and Napoli.

On Milan's challenges versus Ajax.

O

n Napoli's task versus Arsenal and the importance of total football.

---
1. On a night of truth for Milan and Napoli:
A night of truth for Napoli and Milan.

Napol's situation is more desperate

who have to hope for at least a draw with Borussia in Marseille and to win against a very strong Arsenal who is top of the table in the Premier League. Or in case of a win by the Germans, must win by at least three goals against

Wenger's

men.
In football, anything can happen but the second hypothesis today seems very arduous. Benitez's men have found two protagonists (Arsenal and Borussia) in their path who magnificently interpret that what is the objective of Napoli in the future:

Total football.
2. On Milan's challenges versus Ajax:
Milan seems to have resolved the misunderstandings between Barbara Berlusconi and Adriano Galliani thanks to the intervention by Silvio Berlusconi. It was a very good piece of news to begin to hope in the future at the high levels of history at this glorious club.

Calmness has been brought back to the manager and players allowing them to express all of their potential.

Milan, not withstanding the draw versus Livorno, seem to be growing even with some highs and lows. The Dutch, not withstanding a few important absences (De Jong, Duarte and Poulsen), are more to be feared for their style of play than for their individual quality.
Allegri's men only need a draw but there will be problems if they leave space to the Dutch lads. Max will most likely opt for a more prudent strategy. I don't believe he will look to attack all over the pitch, but will create a block between his own midfield and the penalty box. The important thing will be to cut down spaces, mark them, anticipate them and do restarts quickly. The best defense is the danger of a counterattack.

If you only defend, it will be difficult for Milan to come away with a win or a draw that will see them through.
Despite the distractions and difficulty to be compact, you have the feelings that it is a group who is growing thanks to the rediscovered form of Balotelli, the bravura of Kaka', and to the recovery of young talents such as De Ciglio and El Shaarawy along with the patience and work of Max. Milan will have to take advantage of their greater experience and the defensive uncertainties of their rivals but I'm convinced that Milan will do it. I wish them all the best.
---
3.

O

n Napoli's task versus Arsenal and the importance of total football: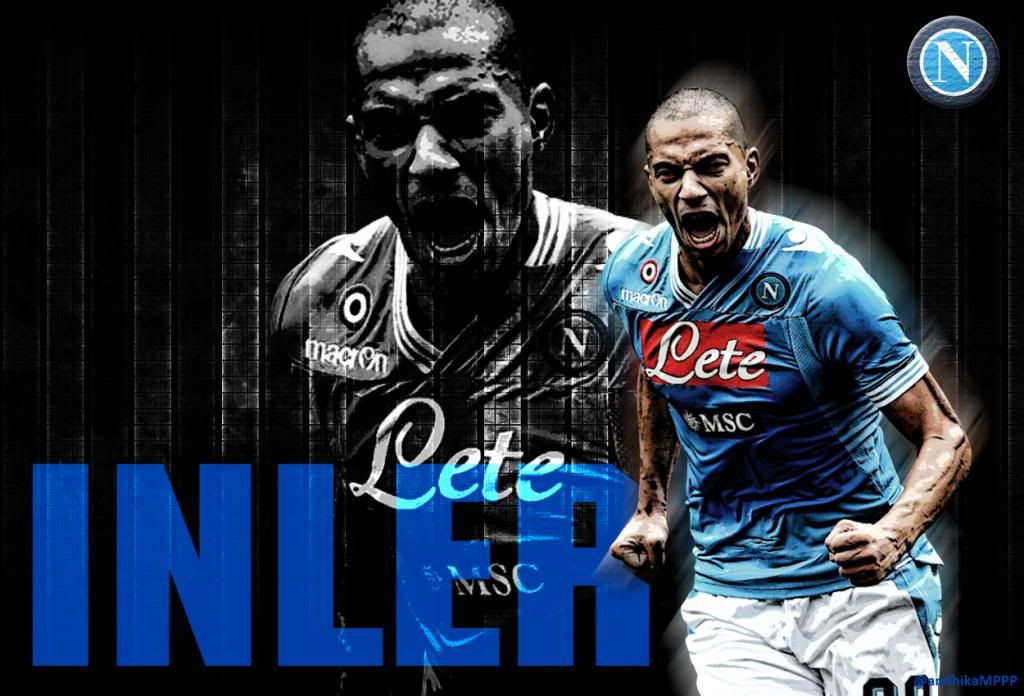 Napoli are experiencing a natural small dip in form due to the double engagement of the Champions League and the Serie A. Along with a growth in the interpretation of total football that provides a lot of time to all of the functional players of a project. Today, the team is on the lookout for a technical and tactical balance and with players who have a knowledge and instruction on the collective aspect.

In total football, you defend first collectively and only then, individually.

Unfortunately, attackers in the non-possession phase don't help out much and the higher outside men who join the two central midfielders, when things go well,

chasing

the opposing fullbacks.
In this way, you really have a 4-2-4 with Inler and Behrami as the midfielders who are always at the mercy of a greater number of opposition. The same thing happens with the defensive line where Maggio and Armero struggle to move about with the two center backs. I believe that today, Rafa's men will know how to be more orderly and compact and with a greater sense of fluidity in movement starting with the midfielders. I hope that they are able to complete the task. Forza Napoli.
Arrigo Sacchi
---
Related Articles
Steve Amoia is a freelance writer and translator from Washington, D.C. He is the publisher of World Football Commentaries and The Soccer Translator. You can follow Steve
@worldfootballcm
on Twitter.
---
The Soccer Translator Home
|
Follow on Twitter
---
Tweet