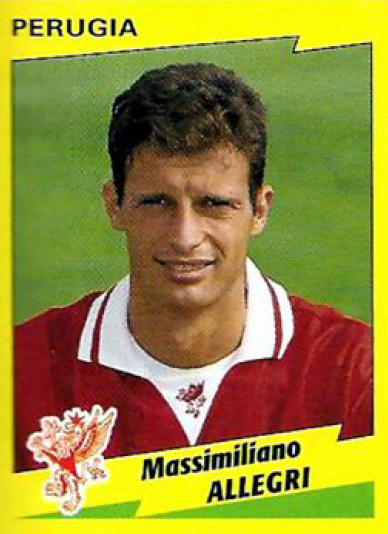 Photo credit: Old School Panini.
Synopsis
:
The current manager of Juventus FC, Massimiliano Allegri, presents his UEFA Pro thesis with an analysis of a three-man midfield. He details the
Trequartista
and
Regista
roles with a special emphasis.


"CARATTERISTICHE DEI TRE CENTROCAMPISTI
"Characteristics of Three Midfielders in a Three-Man Midfield"
by Massimiliano Allegri
Italian managers present a thesis to their colleagues and teachers at the Italian Federation (FIGC) site in Coverciano, Italy.
This project completes a nine-month curriculum according to the FIGC.
Massimiliano "Max" Allegri, the current manager of Juventus Football Club,

presented his research during the 2004/2005 "Corso Master" (Master's Course.) His UEFA Pro thesis was 18 pages in length and included many uncomplicated diagrams.
A Much-Traveled Midfielder
He was born in Livorno in 1967 and began by playing with his hometown team's youth sector.
Allegri
made his Serie A debut in 1992 with Pescara. He also had spells with Cagliari, Perugia, Padova and Napoli, respectively. While at Pescara,
Allegri
had a career-high of 12 goals in one season; however, he
was never capped by the senior level Azzurri.
Coaching Honors
Panchina d'Oro in 2007-2008 with Sassuolo in Serie C1.
Serie C1 Scudetto with Sassuolo in 2007-2008.
Panchina d'Oro in 2008-2009 with Cagliari in Serie A.
Serie A Coach of the Year in 2010-2011 with AC Milan in Serie A.
Serie A Scudetto with AC Milan in 2010/2011.
Italian Super Cup with AC Milan in 2011.
Serie A Scudetto with Juventus FC in 2014/2015.
Coppa Italia (Italian Cup) with Juventus FC in 2014/2015.
Italian Super Cup with Juventus FC in 2015.
Premio Enzo Bearzot with Juventus FC in 2014/2015.
Translator's Note:
The
Panchina d'Oro
(Golden Bench) is an award given by fellow coaches.
The
Premio Enzo Bearzot
is an award that honors a manager in memory of the 1982 World Cup winning coach.
Let's see what
Mister Allegri
had to say:
"Juve was the team I supported as a child."
"When you coach a great team, you have the obligation to win."
"Juve has a winning DNA."
"In football, I only have one philosophy: Winning."
"After I was sacked at Milan, I spent two months in London. I saw some games of the
Premier League to better understand English football. It's more fascinating than Italian
football. I hope in the future to have the opportunity to coach in England and to rise to
the challenge of working in a completely different type of football."
---
Discussion Items in Part 1
His introduction.
On the requisites of a key midfielder: The Regista/Number 4 player.
On the characteristics of the two inside midfielders (Numbers 8 and 10).
Discussion Items in Part 2
On a triangle using a "vertice alto" or the trequartista (number 10) and the characteristics of the holding midfielders.
On the 4-3-3 with a "vertice basso" (the number 4/regista).
On the 4-3-3 with a "vertice alto" or the trequartista (number 10).
Related UEFA Pro Coaching Thesis Articles
Il Trequartista by Roberto Mancini
Movement of Attacking Midfielders by Daniele Franceschini
Steve Amoia is a freelance writer and translator based in Washington, D.C. He is the publisher of World Football Commentaries since 2006 and published The Soccer Translator from 2008 to 2015. You can follow Steve
@worldfootballcm
on Twitter.
---
The Soccer Translator Home
|
Follow on Twitter
---
Tweet