Photo credit: Old School Panini.
Italian managers present a thesis to their colleagues and teachers at the Italian Federation (FIGC) site in Coverciano, Italy.

Roberto Donadoni
presented his research during the 2001/2002 "Corso Master" (Master's Course.) His thesis was 14 pages in length and included many diagrams. You may click the link above to download a PDF file to view the original in Italian.
A Rare Man Who Played for the Azzurri and also Managed Them
Roberto Donadoni
holds a rare distinction: He was capped
63 times
for Italy as a player and was the Azzurri manager from 2006 to 2008. He began his professional career at Atalanta in 1982, and then was sold to AC Milan in 1986 where he enjoyed 11 massively successful seasons. His trophy haul at Milan during this decade included the following:
Five Serie A Scudetti, three European Cups, three European Super Cups along with two Intercontinental Cups
(the Club World Cup championship of his era), respectively.
He then moved to the United States to play for the Metrostars in the nascent MLS. After two seasons in the USA,
Donadoni
returned to Milan for a brief spell and won another Scudetto. He finished his highly-decorated career at Ittihad in Saudi Arabia for one season during 1999/2000.
Let's see what
Mister Donadoni,
the current manager of Parma, had to say in Part 1 from intriguing excerpts of his coaching thesis.
Photo credit: Old School Panini.
As a member (second from the right in front row) of the 1988
Italian European Nations Cup team. Donadoni also featured in
the 1990 and 1994 World Cup teams.
Discussion Items
His introduction: Dribbling as a deadly weapon.
Definition and Objective. Five different types of feints.
Prerequisites: Technical ability, awareness of choice, cognitive capacities, emotional control, confidence, responsibility and a notable expression of footballing intelligence.
Please Note:
Areas in
red
were places where
Mr. Donadoni
emphasized specific learning concepts.
Roberto Donadoni interviewed by Sean Hamil
at the Birkbeck Sport Business Centre on 28 April 2008:
"Club versus Country: the challenges of managing a national
team in an era of increasing club power."
1. His introduction: Dribbling as a deadly weapon.
The game is characterized by a continuous alternation of the two phases of play:

Non-possession and possession of the ball.

The attack and defense have a different organizational structure, and therefore, differing behaviors.
The defensive phase must be understood as a

mathematical system

. Nothing is left to chance and every movement and attiude of an individual player has a logical acknowledgment by his own teammates. It excludes every instinctive solution and there isn't any room for creativity. Therefore, it's very dangerous, because of the unexpected risk and it is also unpredictable for your teammates. With the eventual consequence to create deliterious inbalances.
The possesion phase, also being organized such as time of play and rational use of space,

is less mathematical

. Even in an organized system of movement, it always leaves room for individual creativity, understood as a type of choice, place and modality of movement. In such a way that it results in an unpredictability for your opponents. In addition, allowing you the possibilty to use a

deadly weapon

: The Individual Play (Dribbling).
---
2. Definition and Objective. Five different types of feints:
Photo credit: Old School Panini.
Dribbling is the capacity to beat your opponent with the ball.

It represents a solution, when it is successful, that gives you an immediate advantage: A free ball and numerical superiority because you find an

individual technical-tactical play which has a great effect and incisiveness on the collective tactical scheme

.
Schematically, objectives can be outlined as follows:
DRIBBLING
A technical movement of guiding the ball finalized by overtaking one or more opponents to:
To win space ahead of you.
To shoot on goal.
To pass the ball.
As a countermeasure against pressure: The individual pressurized play of your rival becomes neutralized by overcoming him, obtaining a momentary free-ball situation and numerical superiority which impedes him from defending you. Consequently, even a pressing action in a collective sense:
With a frontal defensive scheme.
With a lateral defensive scheme.
With a defensive scheme from the back.
With a zonal defensive scheme.
The Feint
Dribbling can't be excluded by the

FEINT which is an action where the objective is to mislead your opponent

by varying perceived points of reference, balance and extending him, therefore, his reaction time.

The feint is essentially composed of two fundamental elements: The misleading and an intentional action

. Your opponent must react to the first misleading movement as if it were intentional and it will take place as soon as he becomes off-balance. While the misleading movement can't happen either too slowly or quickly, your intentional movement, on the other hand, should occur as rapidly as possible.
Types of Feints
These are actions comprised of misleading movements and intentional ones with an end result to put one or more opponents off-balance by:
Active Feints

: The attacker is active and induces his rival by mistaken anticipations and movements. Therefore, a mistaken reaction.


Passive Feints:

The attacker makes intentional pauses and leaves an active role to the defender (which is more or less the first move). Then he reacts.


Feints in Attack

: You make them think you have begun a very precise dangerous movement.


Feints in Defense

: You make them think that potential errors can be taken advantage of by their rival.


Feints that modify time and space

: Changes in direction, rhythm and velocity.
Translator's Note:
It might be helpful to view Mr. Donadoni's diagrams from the original Italian document to clarify his explanations about feints.
---
3. Prerequisites:
Technical ability, awareness of choice, cognitive capacities, emotional control, confidence, responsibility and a notable expression of footballing intelligence
: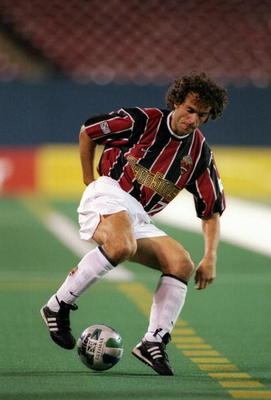 Photo credit:
The fundamental prerequisites to develop an outstanding dribbling capicity are:
TECHNICAL ABILITY and what could be called ownership of the ball. Therefore, perfect COORDINATION:

If generally, in the process of learning technical movements, ball control is at the base of coordinating capacities,

specific technical ability tied to the feint and dribbling is without a doubt the GUIDING OF THE BALL

that permits a footballer to move himself into space with a tool which orients him in different directions.



AWARENESS OF THE CHOICE:

It's important to know when you can put it into motion, finalizing the technical movement reflexively due to your own decisions, and therefore

operating on tactical choices

.

The freedom to be able to carry out a dribbling play, in fact, is not an absolute value

. It has limitations determined by the fact that in an unsuccessful case, you don't have to emerge from an immediately dangerous situation for your own team. Therefore in general, you must not look to execute a dribbling play when we find ourselves without cover behind us.



The awareness of choice is an expression of COGNITIVE CAPACITIES

which allows the success of a motor action. And which determine that necessary

"tactical sense

" to find the right solution completed by its decisions.
In this sense, the determining result is a psychological character aspect represented by

Individual PERSONALITY

, which means:
EMOTIONAL CONTROL:

The individual thinks and reacts with lucid perception and executes the right movement in a suitable space by channeling his own mental energies solely on a fixed objective. Namely, to get by his opponent.
CONFIDENCE

: The individual is aware of his own choice and strengths to execute the play with a conviction to be able to get by his opponent. The individual also doesn't doubt the recognition, on the part of others (manager, teammates, etc.) of their own attitudes about dribbling. An eventual mistake must not compromise the next behavior.
RESPONSIBILITY

: The individual does not underestimate the capacities and characteristics of his rival. He doesn't abuse the confidence afforded to him and avoids technically-improbable plays. And, above all, plays which are tactically too risky for his own team by demonstrating to be able to interpret, in various situations, the proper moments of the match.
3. A useful dribbling play therefore represents a

notable expression of footballing intelligence

, the fruit of brilliance, creativity and personal invention. Using cognitive types of choices, it transmits a specific technical ability to guide the ball, refined by specific coordination exercises, as the footballer executes the best possible solution in the most suitable time and space.
---
Italian source:
Scuola allenatori - Tesi




Tesi corso Master per allenatori di prima categoria




Corso Master 2001/2002




Autore/i:

Roberto Donadoni
Related Coaching Theses at The Soccer Translator
Photo credit:
AndhikaMPPP
.

"The Modern Footballer: Identity,
Nationalism and Internationalization"
by Hernan Crespo
Photo credit:
AndhikaMPPP
.

"The Trequartista"
by Robert Mancini.
Photo credit: Old School Panini.
"A Four-Man Defense in
Both Phases of Play."
Photo credit: Old School Panini.

"The Italian and the Englishman:
Thoughts from a Sleepless Night"
by Gianluca Vialli.
---

Steve Amoia is a freelance writer and translator from Washington, D.C. He is the publisher of World Football Commentaries and The Soccer Translator. You can follow Steve
@worldfootballcm
on Twitter.
---
The Soccer Translator Home
|
Follow on Twitter
---
Tweet